Abba Gold 33 1/3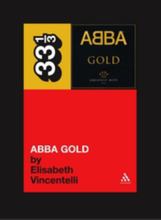 Stock information
: $19

.99

(AUD)

: 9780826415462
: Bloomsbury Publishing PLC
: Continuum International Publishing Group
:
:
: March 2004
: .4 Inches X 4.75 Inches X 6.5 Inches
:
: 21.95
:
:
:
: books
:
:
:
:
:
:
:
:
: 128
: Elisabeth Vincentelli
:
: 782.42166/092/2
: English
:
:
: Paperback
: 33 1/3 Ser.
9780826415462
Description
Perhaps more than any other Greatest Hits compilation, Abba Gold has come to define a band's career on one disk. More than that, its release in 1992 heralded the critical rehabilitation of a group which had, since its demise a decade earlier, become little more than a memory of trashy costumes and cheesy tunes to many people.

Here, Elisabeth Vincentelli charts the circumstances surrounding the birth of Abba Gold, looks at the impact it had on the music world, and tells the stories behind some of the greatest pop songs ever recorded.

Excerpt
Pop is the opium of the masses, the sweetener that makes you swallow the status quo-and that comforting attitude is reflected in pop's reliance on tried-and-true song structure, including the obligation to build up to a memorable chorus. The chorus is what sells the song, it's the part that's supposed to become imprinted in your head as it caps a sweet, sweet momentum.

Starting a song with the chorus is the equivalent of drawing your gun too early in a shoot-out, of revealing your hand too hastily in a poker game: Once you've given everything you have, where's the pay off? And yet "Dancing Queen" doesn't flag after its flamboyant beginning: The chorus acts as both teaser and pay off. Ironically for a band that was supposed to be a bunch of control freaks with a solution to every technical or musical conundrum, it later surfaced that "Dancing Queen" starts with the chorus because Abba just couldn't figure out how to make it work any other way.

About the Author:
Elisabeth Vincentelli is music editor of New Out. She has also written for the Village Voice, Rolling Stone, and Entertainment Weekly among many other publications. She grew up in France and has loved Abba since watching them triumph at the Eurovision Song Contest in 1974.